Killarney is home to many statues and sculptures. There is great variety within all of them and they embody all aspects of life and the spirit of Killarney.

Today we will be looking at just a few of our favourite ones but make sure to count how many you find during your stay.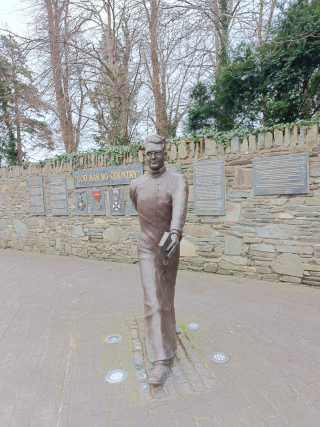 Monsignor Hugh O'Flaherty
"God has no Country" these immortal words were spoken by Monsignor Hugh O'Flaherty whom this statue commemorates. He was a Killarney native and World War Two hero. He saved the lives of over 6,500 Jewish people and prisoners of war from Nazi-occupied Rome when he was serving at the Vatican. His story is available in full on the panels behind the statue and we highly recommend reading them for an inspirational tale. A brilliant mural of him can also be found painted on a wall down Monsignor Hugh O'Flaherty Road at the top of High Street.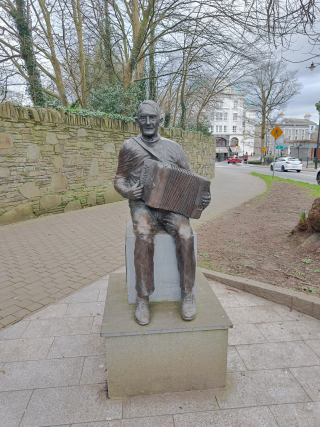 Only a short walk down the road from the Monsignor's statue, Johnny O'Leary was one of Ireland's finest accordion players. Born in Gneeveguilla in 1923, Johnny is just one of several brilliant musicians to come from the area who specialised in Sliabh Luacra style music which featured polkas and slides. A multiple award winner and member of TG4's Hall of Fame, he is now forever commemorated just across from the jarvey stand in the town.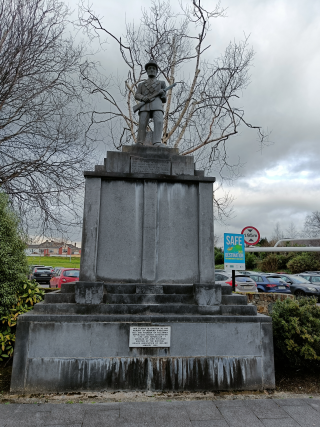 This sculpture was erected in honour of the soldiers from the 2nd Kerry Brigade of The Irish Republican Army who participated in the Irish War of Independence and the Irish Civil War. A smaller memorial can be found on Countess Bridge with the names of the soldiers who were tragically shot dead by the Free State Army on the bridge. It can be found situated in front of the Killarney Library.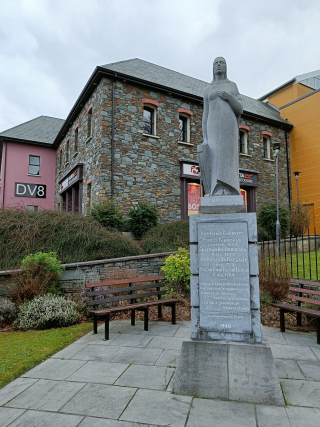 The Spéirbhean
(Beautiful Woman)
Located just outside the Killarney Outlet Centre and facing the Friary, The Spéirbhean Monument was sculpted by Seamus Murphy in 1940. It was erected to commemorate four of Kerry's finest poets, Piaras Feiriteir, Seafradh O' Donnchadha, Aodhagan O' Rathaille and Eoghan Rua O' Sulleabhain. Some people say that the monument is perceived to be a personification of Ireland. A very easy monument to locate, make sure you stop by to see it in person.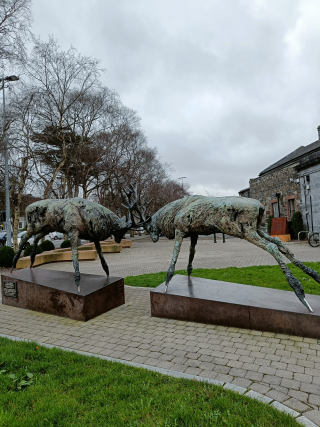 This magnificent life-size sculpture depicts two stags clashing. Made from bronze and erected in 2012, the sculpture was made to celebrate the saving of Killarney's red deer population from extinction 40 years ago. The sculpture is now a centrepiece of Killarney and can be found just outside of the town's courthouse.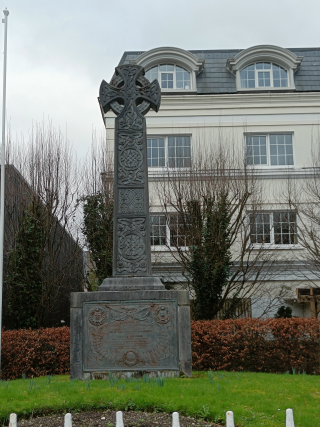 Royal Munster Fusiliers Cross
This 16 foot Celtic memorial cross was erected to honour the many soldiers of the Royal Munster Fusiliers. The regiment served in India, Burma, Jerusalem, Palestine and South Africa during the Boer War and they fought in France, Dardenelles, Gallipoli and Belgium during World War One. It can be found only a stone's throw away from the sculpture of Johnny O' Leary.
Wooden carvings of killarney wildlife
There are a few outstanding wooden sculptures around Killarney National Park, the centrepiece being the magnificent red deer carving located across the road from the playground. Walk across the road and there is a lovely walk along the river in the National Park in which you are flanked by wood carvings of the some various animals that can be found in Killarney. Make sure to give a walk around the National Park and Knockreer and see what animals you can identify from the carvings.  
These are just a few of the many wonderful statues, memorials and sculptures that our lovely town has to offer. Make sure to mention us with #LoveKillarney in any photos of sculptures that you find for a chance for your photo to be featured on the Destination Killarney socials.