With world-famous mountains and breath-taking lakes, Killarney is home to some of Ireland's and the world's finest of landscapes. Rugged passes such as the Gap of Dunloe and Molls Gaps offer the most stunning of views, as Killarney House and Muckross House & Gardens offer history in the most spectacular of locations.
Killarney treasures such Torc Waterfall, Ross Castle and Muckross Abbey are often the start of any conversation when planning a trip to Killarney, and our team at Destination Killarney ask you to consider some of Killarney's less talked about hidden gems to ensure your next journey is even more remarkable.
1. Old Weir Bridge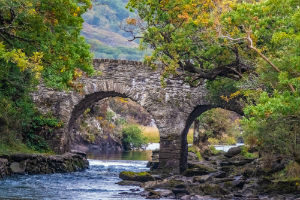 One of Killarney's oldest structures, Old Weir Bridge is one of the most spectacular arches around. The magical setting of the Old Weir Bridge is however slightly difficult to access as it can only be accessed by foot, bike, or horse-drawn carriage.
However, despite this, it is well worth making the effort and this spectacular setting is often forgotten about which is unfortunate considering the magical aura it offers and is certainly not completely off the "beat and track".
Located in the heart of Killarney National Park it neighbours nears two of Killarney other hidden gems Dinis Cottage and the Meeting of The Waters.
2. Innisfallen Island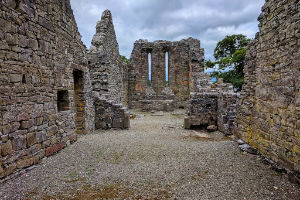 Innisfallen is home to the ruins of Innisfallen Abbey, one of the most spectacular archaeological remains, that dates back as far back as the early Christian period.
The island is located on Lough Leane, one of Killarney three famous lakes, and was founded in 640 by St Finnian the Leper.
The monastery is said to have been occupied for approximately 950 years.
3. Strickeen Mountain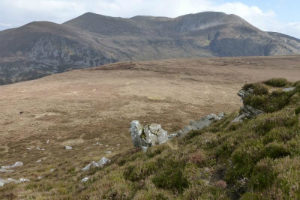 One of Killarney most accessible mountains on the MacGillycuddy Reeks, Strickeen Mountain rises just over 300 metres from the glacial valley floor of the Gap of Dunloe.
A steady hill ensures a consistent pace on both the ascent and descent but also offers impressive panoramic views of Killarney and its surrounds impressive landscape.
Strickeen is located in the famous Gap of Dunloe, just over 10km from Killarney Town.
4. Ross Island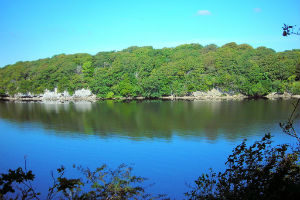 The Trails of Ross Island is perfect for a leisurely walk and for all those that enjoy learning walk and for those who enjoy learning about the local history of the Killarney area. The trails of Ross Island start at Ross Castle and is surrounded by a canopy of spectacular woodland that provides fantastic shelter from the rain.
Offering both peace and tranquillity, Ross Island is closed to vehicles and can be only be accessed by foot or bike. The trail takes you to, many of Killarney lesser-known landmarks such as Governors Rock, The Copper Mines and Library Point, and is also home to some of Killarney deer population.
5. Meetings of the Waters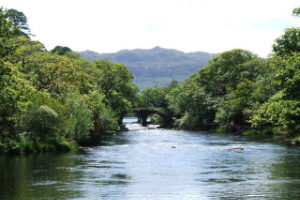 One of Killarney's lesser-known gems, The Meetings of The Waters is where three of Killarney Lakes, The Upper Lake, Muckross Lake and Lough Leane all come together in one of Killarney's most scenic of locations.
Located nearby is the already mentioned Old Weir Bridge, and it is best accessed by walking from Muckross House.
6. O'Sullivan's Cascade in Tomies Wood

O'Sullivan's Cascade in Tomies Wood is another of Killarney Hidden Gems. Located in Tomies Wood, near the Gap of Dunloe area. The route is mainly all forest track.
Legend has it that the cascade/waterfall once supplied chieftain of Fianna, Fionn MacCumhal, the finest supply of whiskey and not water.
However,  O'Sullivan of Tomies is said to have been the only person brave enough to stand up to Fionn MacCumhal and shared a drop of the delightful whiskey. The legend continues that when the English invaded Ireland many years, the whiskey changed into water and became known as O'Sullivan's Cascade.
7. Killegy Woods Loop
A rewarding, atmospheric 5Km trail that explores the woods on the fringes of Killarney National Park, Killegy Woods Loop is certainly one of Killarney's most hidden gems. The walk is a varied trail and is very enclosed and link with two of Killarney's most well-known mountains Torc and Mangerton Mountain.
The walk itself provides a fabulous sense of isolation and tranquillity, in an area surrounded by trees for a few kilometers. The trees in the Killegy Woods also provide fantastic cover on wetter days, and during warmer days provide a cool refuge from the heat of the sun.
Killegy Woods Loop is a wonderful trail to explore and provides an excellent area to explore the spectacular hinterland of Killarney.