Its the time of year when the old sayings "New Year, New Me" "In with the new, and out with the old" all come to mind, but the origins of the name of the month January – comes from The God of beginnings and transitions "Janus". A time to set goals, set objectives and make plans for the year ahead,  if Killarney is not on your places to visit in 2019 just yet, it should be definitely given consideration. If new health goals, more travel and more me time are part of the plan, then Killarney is without question, the destination for you in 2019.
With some of Ireland's best outdoor activities on our doorstep, stunning historic attractions, and spectacular unique culture, dining, adventure experiences all to be explored within the charm of Ireland's most picturesque town, its time to beat the January Blues with a visit to Killarney this January.
With a selection of activities to choose from, our team at Destination Killarney have put together 10 reasons why Killarney should be on your list for a well-deserved break as an end of season treat.
Reason 1: Cardiac Hill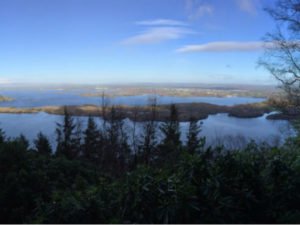 Don't be scared by name, Cardiac Hill is tough, but a very enjoyable strenuous walk/ run climb. The spectacular setting of Cardiac Hill is actually a journey up the slopes of Torc Mountain and is located just a short distance outside the town of Killarney. If you love a challenge and fitness is part of your New Years Goals – Cardiac Hill is a great challenge to set the new year of to a flyer for you.
Reason 2: Angsana Spa at The Brehon Hotel Killarney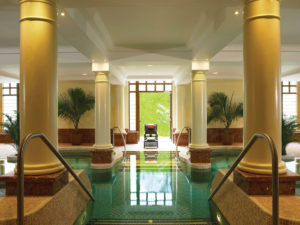 The festive period and the Winter Season is possibly the most stressful seasons of all, and there is nothing worse than starting the new year, feeling tired and worn out. "Me Time" is required and they should be no shame in making time for you and a loved one, and a trip to The Brehon Hotel and the spectacular Angsana Spa is highly recommended.  The Angsana philosophy is to live life spontaneously, to sense the moment and savor time. A sanctuary for the body and mind, set in the spectacular location of Killarney, the Angsana Spa offers a  variety treatments and better still each therapist has been trained professional at the Banyan Tree Spa Academy in Phuket, Thailand, renowned for its caliber of graduates and The Banyan Tree Spa's are consistently listed as among the best spa's in the world. Check out The Angsana Spa website for more information
Reason 3: St Mary's Cathedral in Killarney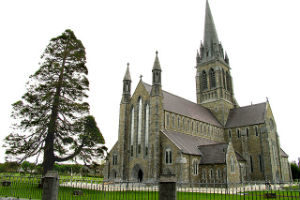 If you're interested in history & spectacular architecture a visit to the stunning St Mary's Cathedral in Killarney is a must. Located within the peaceful surroundings of the quieter side of Killarney, St Mary's Cathedral in Killarney was designed by renowned English architect Augustus Welby Pugin and the building started in 1842. However,  a dark period of Irish history hit as Ireland experienced the Great Famine in the 1840s and funds for the project were decimated. It wasn't until 1853 interior decorations commenced by James Joseph McCarthy, and today stands one of Ireland's most spectacular buildings.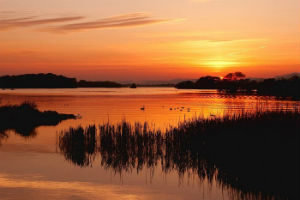 Reason 4: Trails of Ross Island
Ideal for a jog or a stroll, the trails of Ross Island is sheltered by a canopy of Trees for the majority of the trail. The route itself takes in visits to Governor's Rock, Cooper Mines and Library Point. To get there all you need to do is head towards Ross Castle, and you will be well directed from the signposts from there. The route does not allow motor vehicles and takes in some fabulous views of the spectacular lakes of Killarney and is also home to some of Killarney's famous deer population.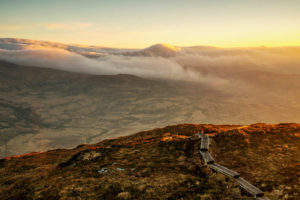 Reason 5: Torc Waterfall & Mountain
Torc Waterfall & Mountain is famed for its natural beauty, and is one of the most photographed areas of the Killarney area. Just a short walk of approx 200 metres from the carpark brings you to the spectacular Torc Waterfall. From here, you can explore spectacular views of the Killarney Lakes and Landscape by climbing the adjoining steps located to the left of Torc Waterfall.
The area is blessed with many tracks and trails and if you fancy a challenge Torc Mountain is highly recommended. At just 535m, Torc Mountain is a relatively moderate climb and takes roughly two hours to complete. The summit of Torc Mountain offers spectacular views, so make sure to have the camera ready if your taking the journey.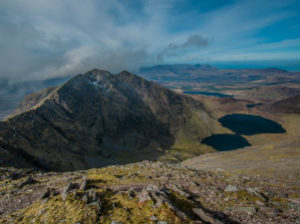 Reason 6: Carrantuohill Mountain
Ireland's highest mountain stands at 1039 metres, and while it can be a challenging climb, reaching the summit of Carranutohill is exceptionally rewarding. Set among the spectacular MacGillycuddy Reeks in Co.Kerry, the area sees over 25,000 hillwakers take the challenge of the mountains each year. Summer is by far the peak season, and the area can be very busy, and if weather is favorable in Winter, it can be an amazing experience.
Due to the height of Carrauntoohil, the mountain range is susceptible to changeable weather, and can be very dangerous at times so take heed to weather warnings and if new to the area and you are lacking experience, it is advised also to use a guide.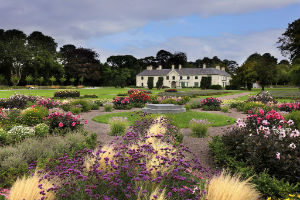 Reason 7: Killarney House
Love culture and plan staying near the town centre, well Killarney House is a must visit. Recently renovated after an extensive makeover, Killarney House in recent decades actually lay hidden behind high walls, much to the dismay of Killarney residents and visitors.
The house itself was neglected, but thankfully has been rightly restored and was recently subject to a visit from Prince Charles and Duchess of Cornwall Camilla, and in many ways has been rightly restored as the gateway to Killarney National Park.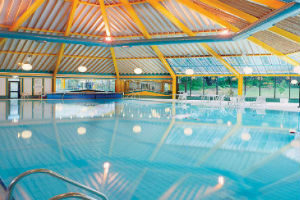 Reason 8:  The Aquila Club at The Gleneagle Hotel
Suitable for all ages, The Aquila Club at The Gleneagle Hotel Killarney is home to a 25 metre swimming pool, Childrens Splash Pool, Fully Equipped Gym and Cardio & Functional Weights Area, Steamroom, Sauna, and Jacuzzi.
Located just over 2Km outside Killarney town centre, the Aquila Club at the Gleneagle Hotel also boasts facilities such as Squash Courts, Tennis Courts, Pitch and Putt and a Children Play Area.
Why not visit the Aquila Club website for more information.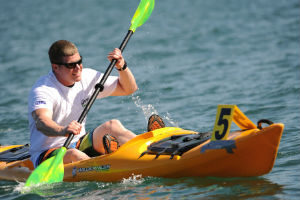 Reason 9:  Kayak in Killarney
Ideal for active couples, Kayaking in Killarney is a wonderful way to explore the beauty and history of Killarney. Kayak from Ross Castle right through to Lough Leane to Innisfallen, and experience some of the most dramatic scenery imaginable.
Discovering wooded & rustling islands, limestone caves, and kayak past sleepy swans on the Lakes of Killarney, Kayaking in Killarney also offers you the chance to discover Killarney's past with the mystical 6th-century abbey ruins on Innisfallen Island well worth a visit. No previous kayaking experience is also required, so no excuses.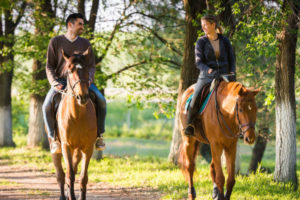 Reason 10:  Horse Riding in Killarney
Killarney Riding Stables provide daily rides through Killarney National Park, and are open all year round.
Take in the beauty and views of Ross Castle, Ross Island, Innisfallen Island and surrounding mountains, with a choice of one, two or three-hour treks in Killarney National Park, with all levels catered for and supervised by guides.