Autumn leaves are always a sign of change. From leaves turning to green to gold to amber, red to orange, it's a starling reminder that the summer season has ended, and its ample time to start preparing for the long evenings of the winter.
However as we prepare for the Christmas Season, the dark nights, the bitterly cold mornings, and the sizzling hot fires, it's an opportunity to enjoy the beauty of one of our most spectacular seasons.
If you are thinking about exploring Killarney this Autumn, why not visit some of our recommendations from us here at Destination Killarney
1. Killarney National Park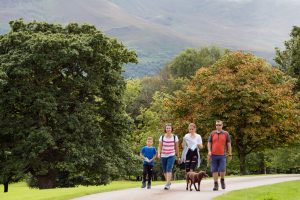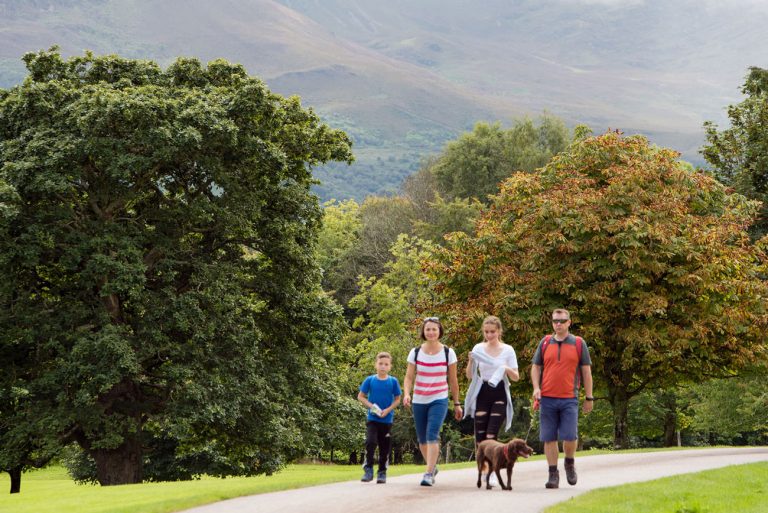 The Spectacular Killarney National Park is a must see in any season, but it can be argued it can be even more enjoyable in the Autumn Months, as the park becomes much more peaceful after the flock of tourists that visit the park during the summer. Ireland's oldest national park is home to some of Ireland oldest native woodlands, and with over 26,000 acres to explore the magical woods of Killarney are complex, diverse and in many ways are spectacularly unqiue.
As you can imagine, the colouring substance that plays the role in changing in colours of leaves to green, during the spring months is vastly dimished, and the Chorlophyll substances that cause leaves to fall, and turn to brown and red are more and more prevalent during the Autumn months. With secluded trails, exotic lakes and leaves scattered among the walkaways of Killarney National Park,  Killarney National Park a must see for Autumn 2018.
2. Carrantuohill Mountain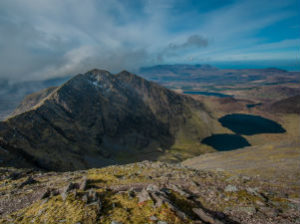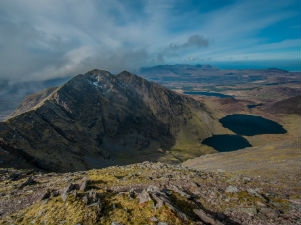 Ireland's highest mountain stands at 1039 metres, and while it can be a challenging climb, reaching the summit of Carranutohill is exceptionally rewarding. Set among the spectacular MacGillycuddy Reeks in Co.Kerry, the area sees over 25,000 hillwakers take the challenge of the mountains each year. Summer is by far the peak season, and the area can be very busy, and if weather is favourable in Autumn, it can be an amazing experience.
Due to the height of Carrauntoohil, the mountain range is susceptible to changeable weather, and can be very dangerous at times so take heed to weather warnings and if new to the area and you are lacking experience, it is advised to use a guide.
3. Historical Attractions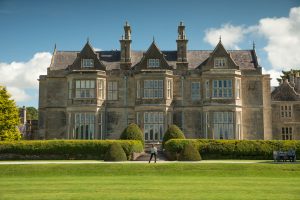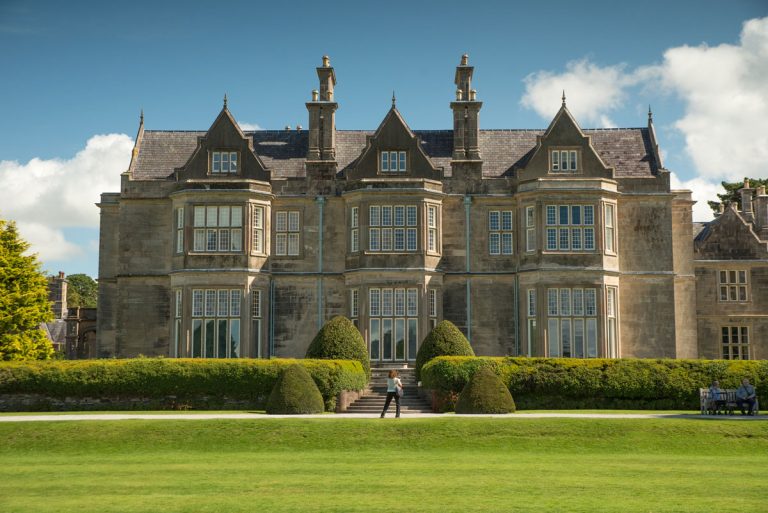 Open all year round, the spectacular Muckross Houses and Gardens is a must visit in Killarney, during the Autumn. The 19th Century Victorian Mansion is set in the middle of Killarney National Park, and is full of historical paintings and ornaments. A farm is also attached, and is open 7 days a week in September, and open weekends in October from 1pm to 6pm.
For the ultimate Autumn Experience we recommend getting a horse and trap through the National Park to Muckross Park. Ross Castle is also a must see this Autumn in Killarney. A 15th Century Castle set on the edge of Killarney Lower Lake, is a known photographers paradise, but this spectacular Castle is well worth exploring for just a small fee. The castle is particularly busy in summer, and is perhaps best explored during Autumn when the area is quieter. Boat trips are also available from here to Innisfallen Island and around the Lakes of Killarney.
4. Muckross Abbey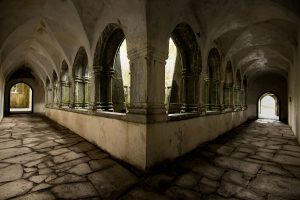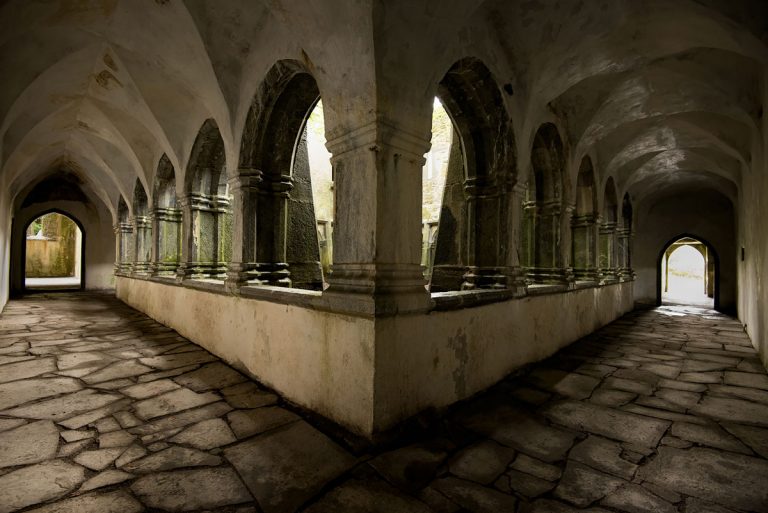 Well Autumn is the season of Halloween and the combination of an Old Irish Monastery and Modern Irish Graveyard adds to the intrigue of one of Killarney's most famous attractions, this 15th Century Abbey is a must visit for both young and old.
The Abbey has been the subject to a tough past, where the Francisican friars that occupied the Abbey saw it vandalized on a numerous occasions. In the 17th Century Oliver Cromwell forces, destroyed the Abbey, and the remaining friars at the Abbey were persecuted. It later became a burial ground in the 17th & 18th Century to many famous poets. The Abbey is also home to one of Ireland's largest yew trees, which is apparently over 550 years old. Mystery, Intrigue and History make Muckross Abbey a must see this Autumn.
5. Killarney Lake Tours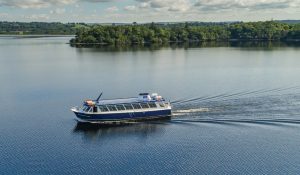 The Lakes of Killarney is best explored this Autumn with a magical boat trip. With many of Killarney most famous attractions on the shores of Killarney Lakes, such as Dinis Cottage, Innisfallen Island, Gap Of Dunloe, Muckross House, O'Sullivans Cascade, Meeting of the Waters and Lord Brandons Cottage, the scenery explored is a truly memorable experience.
With Autumn skys and Killarney magical landscape, a tour of Killarney Lakes should be enjoyed this Autumn. For more information on Killarney Lake Tours why not visit Killarney Lake Tours website. www.killarneylaketours.ie
6. Torc Waterfall
Heavy rainfall cannot be avoided in Kerry, and if it does occur, Torc Waterfall should not be missed. The Waterfall stands at 70 to 80 feet high, and is extremely popular with tourists. The area can get particularly congested in the summer months and many argue that is best visited during the quieter seasons as congestion is not an issue.
If you want a good viewing point of the lakes then push yourself a little further and climb the 100 or so steps immediately to the left of the waterfall to get some excellent views of the lakes.
7. Rutting Season in Killarney National Park
One of natures finest spectacles, rutting season in Killarney consists of the the testostrone charged male deer of the Killarney National Park, that will rub their antlers or horns on trees and shrubs, fight with each other, wallow in mud or dust, self annoint and herd estrus females together. Rutting Season usually starts late September, and early October and the clashing of antlers begins among stags who have been friendly all summer. During this period, the rutting can become particularly intense and on some occasions can even lead to death among the stags, as they fight for their female counterparts affections.
While the rutting season is a truly fascinating spectacle, caution must be advised as stags can turn on humans also if you get too close. The Red deer population of Killarney is said to be over 700, and they are number of areas to see the Red Deer, such as Knockreer and Muckross in Killarney National Park.